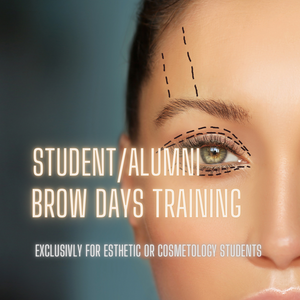 Deesignz Artistry is bringing a opportunity for Esthetic students & Alumni currently enrolled in school. 
4 Days of BROW training will include Introduction to permanent makeup, henna brows, brow mapping, brow lamination & Lash lift training. Online training will need to be completed prior to class.
1 week prior to class a E- booklet will be emailed and need to be completed prior to training.
Class is 4 days starting at 9am -6pm 
Days 1,2 & 3
• Introduction into Permanent Makeup of brows
•Brow Mapping, Facial Shapes, mathematical measurements 
•Live demo's
•Manual
•Certificate
•Sanitation
•Hands on practice with machine work & micro-shading on faux skin pads.
Understand the difference between needles and knowledge of your needles
Machine, Manual hand tools and tattoo accessories included for permanent makeup.
Day 4
•Henna Brows & Brow/ Lash Lift lamination
•Theory of Henna brows
•Brow Lamination & Lash Lift
•Demonstrations
•Hands on practice 
Upon completion of all 4 days of training students will be awarded a certificate of completion.
Henna, Lamination/Lash Lift kits will be available for purchase after training.
Want to complete 100 hour training with hands permanent makeup models ?
1-2 models is highly encouraged and is an additional charge of $800. As a graduate of the course you will have up to 3 months to complete hands on with your Permanent Makeup Models. Models will will need to be provided by student and training will be taken one on one . Model cost is $75 per model. Student will receive a certificate of 100 hours of completion.