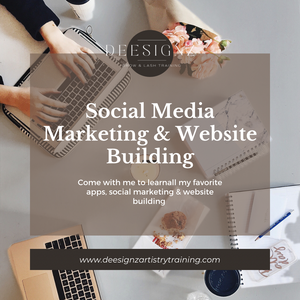 Online course that includes marketing techniques, social media marketing & 5 CE hours.
Get ready to grab your phone and download some of my favorite apps for marketing. You will have access to already made post that will require you to add your personal touches to them. Videos to help you create a website & my favorite booking system. Website is free for 30 days. I will teach you how to post before & after pictures of your work to create marketing posts.
Goals are everything and having a plan is necessary. Download my planner for your future goals and get onto the path of a successful business.
Take your time and walk slowly through the steps of creating a booking & website together. Be sure to pause and download the apps. Downloading and inputting your website will also take time. 
When you have finished the course be sure to text or email you professional license. Be sure to print your name exactly how you will like it to appear on the certificate. You will receive an email or text of your certificate to print out. 


SEND YOUR IDFPR PIC TO :
DEESIGNZPMU@GMAIL.COM
OR
TEXT 708-680-6056