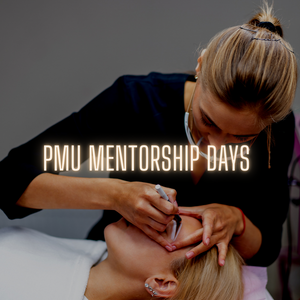 Who should consider securing a MENTORSHIP?
For trained & licensed PMU artists who want to elevate their work with personalized guidance to realize their full potential. 
Perhaps all your questions weren't answered during your course. Maybe it's been a while since you've trained, or your trainer just wasn't available to supervise you with enough models to build your confidence and independence. Have you done your practice and research only to realize that you just aren't prepared for all of the variables?
Or maybe you just have a challenging case coming up and would like some reassurance!
This is an exclusive in person mentorship program designed to raise the level of support and skill of PMU artists who have already completed a training in at least one field of permanent makeup. Date will be determined after a consultation. 
Class is 10am-6pm
Certificate is awarded for attendance 
Bring your tattoo machine to class
Only 1 Model should arrive at 2pm
2 Models 1st model should arrive at 11am & 2nd model at 3pm
10-1pm power point & practice
1-1:45pm Lunch
2-5pm Model
5pm-6pm wrap up with practice & questions
This day or dates for mentorship is to help you grow your skills as an artist. We focus on your struggles and concerns as an artist. Mapping brows, hands on practice with models, color theory, needles & machine work.
Please connect with Dee to go over what you would like to achieve from training before class. Dee will customize each class for her student and the reason why this class is 1 on 1.
Students will need to provide their models, if out of town or you can not find a model, we will do our best to provide a model for you.