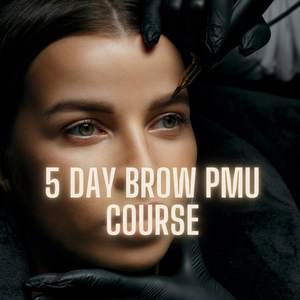 Date is TBD 1 on 1 student training
The Eyebrow Fundamental course is a 1 on 1 training. Which will provide you with a solid foundation in a lasting career in the Permanent Makeup Industry. Included in the 5 day training is 35 hours online modules, 65 hours in class and shadow days completing 100 hours of training.
Class Date is to be determined and scheduled with Dee
9am-5pm
5 Days of Fundamental Brow Training is a one on one training that consists of:
3 models  (provided by student)
On line modules to complete prior to class date
Completion of Blood Borne Pathogen needs to be completed prior to start date of class. Link below for certificate.  
Download USA certificate 
https://cathymontie.com
Theory training in:
ombre brows
powder brows
microblading
hybrid brow
sanitation
Contraindications
mapping
color theory/color correction
Anesthetics
Regulations
business tips & marketing
Pre/Post care
Client consultation & Consent
skin conditions
understanding needles
 WHAT IS INCLUDED IN YOUR KIT :
tattoo machine
needles/cartridges 
microblading tools
pigments
practice pads
numbing cream
ink cups
manual
grip tape 
mapping pencils
Measuring stickers & tools
Certificate of Completion 
 Continued support through Facebook private group